For the Birds: John Innes wins the Peter Nelson Award for Excellence in Vertebrate Pest Management
Category: National. Posted: 6 December 2021
John Innes has won the Peter Nelson Award for Excellence in Vertebrate Pest Management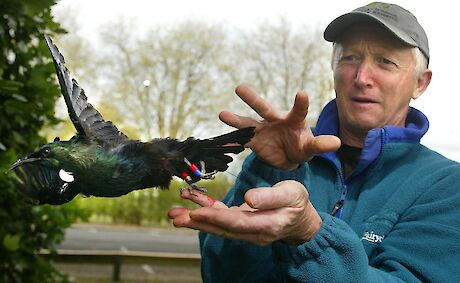 John Innes is a Senior Researcher (Wildlife Ecology) at Manaaki Whenua Landcare Research. He has made a significant contribution to vertebrate pest management within New Zealand over the last 40 years though his innovative and management-focused research into the into how introduced predators interact with native species.
John began his career in wildlife research with a study of ship rats for his MSc at Massey University in 1977. He then started work with the NZ Forest Service in 1980 leading research into kokako habitat use and diet. One of his first projects showed that kokako populations were not affected by aerial 1080 operations. At the same time, his research determined that predators were a significant factor in the decline of kokako, and that broad-scale control of ship-rats and possums on the mainland was possible and could reverse kokako declines. This research was the key to kokako populations recovering from the brink of extinction in the 1980's to over 2000 pairs today.
John was then transferred to the Forestry Research Institute and then during the restricting of crown research moved to Manaaki Whenua Landcare Research. Over his research career, John has undertaken a wide-ranging research including:
Population dynamics, range sizes and behaviour of rodents in native forests and forest fragments;
Density-impact functions for terrestrial vertebrate pests and indigenous biota;
The biodiversity outcomes from predator control;
Working closely with predator free sanctuaries to determine their effectiveness at excluding predators and ensure they remain predator free.
John's research has led to significant improvements in how conservation managers view predators and how predator control is undertaken in NZ.
In addition to his research, John has been closely involved in the annual workshops for national sanctuaries practitioners for 15 years. He has also served on DOC specialist advisory groups for kōkako, kakapo and takahē, and has worked also with kakī, pāteke and kiwi recovery programmes, as well as with tui and bellbird restoration projects in urban environments.